KVT 2402 PAL - Trigger Cap Screwing Machine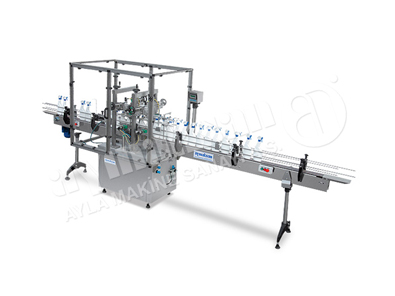 They are automatic capping machines for triger screw or pump caps. The machine have PLC outomation system, linear conveyor, Triger/pump caps are placed on the filled packages manually by operator.The machine performance varies depending on the number of capping heads, package to be capped and cap form. Especially the plants, which have flexible production schedule with or deal with many types of packages/caps, can have high performance and without adjusting bottle star set and cap feed unit.
The caps are left on the filled packaging by the operator before they are transferred under the capping head.
Cap control photocell controls the caps placed on the container.
The triger heads are closed at the set torque by the capping head with pneumatic motor.
This machine is used in facilities dealing with lots of different containers-caps or filling multiple types of containers, has no bottle star tools which makes it more effective in low and medium quantity. It ensures savings on the investment as well as efficient and quick operation.
Equipped with a conveyor made of AISI and Technical Plastics and epoxy painted frame cladded by AISI sheet metal material.
Equipped with PLC system automation, the machine has electric installation compliant with CE to operate in wet spaces without problem.
Settings for working with different packaging are made quickly and easily by use of minimum tools.
As a result of the standard support of spare parts from the stock, the machine operates long years without problem and service.
Cap centering unit

Bottle fixing unit.

Protection cabinet.
CE certificate
| | | | | | | | |
| --- | --- | --- | --- | --- | --- | --- | --- |
| Model | Package Range (ml) | Capacity (bph) | Number Of Capping Heads | Pression Air (bar) | Air Consumption (lpm) | Power Consumption (kWh) | Package Dimension (W*L*H) (mm) |
| KVT 1401 PAL | 250-1.500 | 1.000-1.400 | 1 | 6 | Ops Bağlı | 0,37 | 800*2.500*1.800 |
| KVT 2402 PAL | 250-1.500 | 2.200-2.400 | 2 | 6 | Ops Bağlı | 0,55 | 800*3.000*1.800 |