H 150 Colloidmills - Colloidmills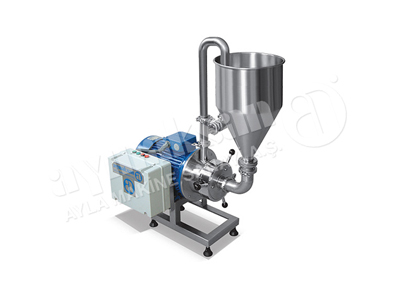 It is a colloid mill with a head of rotor stator system, consisting of three-stage conical gear group of different structures sorted together. These machines provide absolute solution to the problems of homogenization and stability problems in different industrial sectors such as Pharmaceutics / Food / Cosmetics / Paint / Confectionery / Chemistry / Paper / Petrochemical / Cleaning Products / Leather, Textile and Construction Chemicals / Plastics. Motor power of the machine varies depending on the structure and viscosity of the product to be processed and where it will be mounted. 
As the product passes through the crushing head at one pass or several bypasses, the machine brings it to the grain size desired to be recovered by the effects of cutting, crushing, fragmenting and scrubbing.
The most important feature of the machine is the precise adjustment of the product's passing providing the final distribution of particle size to be in narrow range.
The obtained grain size varies between 5 microns to 50 microns depending on the grain sizes of the raw materials.
Product feeding is either through the product feeding hopper or through the pipeline by a pump.
Colloid mills can be mounted on the line as an in-line pump.
Successful results are obtained in a short time with dispersion on the closed-circuit line.
The parts in contact with the product are manufactured from AISI 304 SS material. Mechanical sealing is selected according to the product for impermeability.
The mixer's shaft is directly mounted on the motor, so it operates without maintenance and problem.
As a result of the standard support of spare parts from the stock, the machine operates long years without problem and service.
Use of AISI 316 SS material in places of contact with the product.
Main chassis made of AISI material.
Mechanic packing kit with Thermo siphon.
Steam jacket.
Ex-proof equipment.
Reinforced protection for ex-proof site.
Washable control panel mounted on the machine.
Wheel equipment.
| | | | | | |
| --- | --- | --- | --- | --- | --- |
|  Model | Capacity (lt) | Power(kW) | Mixer Speed(dd) | Mix Head Diameter (Ød mm) | Package Dimension (E*B*Y) (mm) |
| H 150 | 1.000 - 15.000 | 4 - 30 | 3.000 | 150 | 400*900*700 |