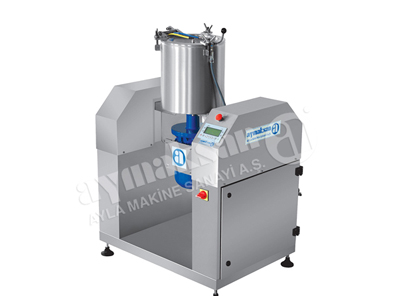 Model TM XV powder mixers are specially designed to mix color cosmetic powder homogenously in short time with timer controlled vertical special formed head. Powder is charged and discharged through the hinged top flap. When the mixing operation is over, the tank is tipped to discharge the product inside.
The machine mixes the whole product homogenously in a very short time with its paddle form.
The mixing paddle is directly connected to the motor shaft so it operates maintenance-free.
The speed of the mixer is adjusted by frequency inverter without levels and without loss of torque.
After the powder is charged, the mixing time can be set from the control panel.
For safety operation, the machine does not start before the tank is locked.
For prevention of powder leakage, excellent dust-proof protection has been ensured on all covers and connections during the mixing operation.
After the mixing is finalized for the set time, the tank cover is opened and tipped by motor-driven control from the control panel to discharge the powder.
It is cleaned in a short time without the removal of any parts which are manufactured with a high surface quality and designed for preventing contamination in the corners.
The machine with the cold water circulation jacket completes mixing in a very short time.
In our machines, chassis is made of AISI 304 SS cladding on epoxy painted carbon steel profile as the standard application. All parts in contact with the product are manufactured either from AISI 304 SS material or other materials as required by the product.
As a result of the standard support of spare parts from the stock, the machine operates long years without problem and service.
PLC system automation and control with operator panel.
Liquid dosage unit.
Buffing application to the inner surface.
Use of AISI 316 SS material in places of contact with the product.
CE Certificate.
| | | | | |
| --- | --- | --- | --- | --- |
| Model | Capacity (lt) | Power (kW) | Mixer Speed (rpm) | Package Dimension (W*L*H) (mm) |
| TM5 Vtrc | 5 | 3 | 3.000 | 1.000*1.200*1.400 |
| TM10 Vtrc | 10 | 5,5 | 3.000 | 1.200*1.400*1500 |
| TM20 Vtrc | 20 | 7,5 | 3.000 | 1.400*1.600*1600 |