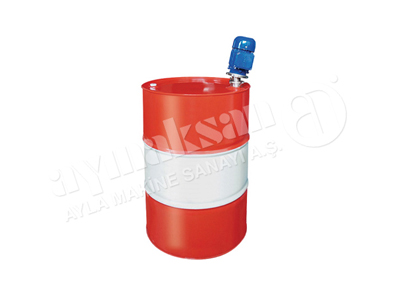 They are mobile high speed mixers which perform in 220 lt closed drums and 1000 lt IBS tanks, by entering from the top plug. Due to the specially designed mixing head, it enters through the plug then unfolds and performs the mixing operation.
It is a very practical mixer especially for collapsing material in the drum or IBC tank during transportation or storage.
The mixer is mounted to the drum plug or IBS tank plug by its special coupling or hang stand without any supporting chassis.
The speed of the mixer is adjusted by frequency inverter without levels and without loss of torque.
The mixer's shaft is directly mounted on the motor, so it operates without maintenance and problem.
The parts in contact with the product are manufactured from AISI 304 SS material.
As a result of the standard support of spare parts from the stock, the machine operates long years without problem and service.
Pneumatic / Hydraulic mixer driver.
Low speed mixer driving unit.
Ex-proof equipment.
Reinforced protection for ex-proof site.
Use of AISI 316 SS material in places of contact with the product.
Washable control panel mounted on the machine.
Variable speed with inverter.
| | | | | | |
| --- | --- | --- | --- | --- | --- |
| Model | Capacity (lt) | Power (kW) | Mixer Speed (rpm) | Shaft Length (mm) | Package Dimension (W*L*H) (mm) |
| VM 140 | 220 lt | 0.37 | 1.500 | 800 | 400*400*1.000 |
| MBM 250 | 1.000 lt | 0,55 | 1.500 | 900 | 500*500*1.300 |