LD 3002 SM - Liquid Filling Machine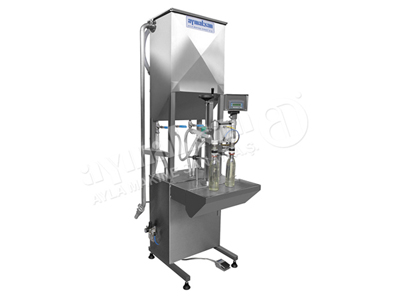 In the machines that fill foaming liquid products such as water, anti-freeze, olive oil, glass cleaning liquid semi-automatically with a leveling system, the product is filled into the packaging from the balance tank on the machine by free flow. The foam generated during the filling accumulates in the accumulation tank in the machine and is turned back into the product and is sent back to the balance tank. The empty packaging is manually fed under the nozzles by the operator.
The machine has a filling system ideal for filling of the foaming and non-foaming liquid products regardless of the internal volume of the bottle. 
In case of the foaming products, foam is taken to the lower bunker and then transferred to the upper balance tank, thus no product is wasted and fast and problem-free filling is maintained. 
Volume setting is made according to the level by change of the measuring rings on the nozzle.
Equipped with protected electro-pneumatic control system, the machine operates in wet spaces without any problem. 
If there is no container under the nozzle, no filling is made.
Due to its infrastructure ready for automation, the switching of the semi-automatic machine to an automatic machine is quick and economic.
In our machines, chassis is made of AISI 304 SS cladding on epoxy painted carbon steel profile as the standard application. All parts in contact with the product are manufactured either from AISI 304 SS material or other materials as required by the product.
Use of AISI 316 SS material in places of contact with the product.
Wheel equipment.
CE certification.
| | | | | | | | | |
| --- | --- | --- | --- | --- | --- | --- | --- | --- |
| Model | Volume Range (ml) | Capacity (bph) | Fill Accuracy | Number Of Filling Heads | Pression Air (bar) | Air Consumption (lpm) | Power Consumption (kWh) | Package Dimension (W*L*H) (mm) |
| LD 3002 SM | 250-3.000 | 400-480 | 1% | 2 | 6 | Ops Bağlı | 0,37 | 500*700 *2.000 |