KV 1201 PM - Capping Machine (Screw)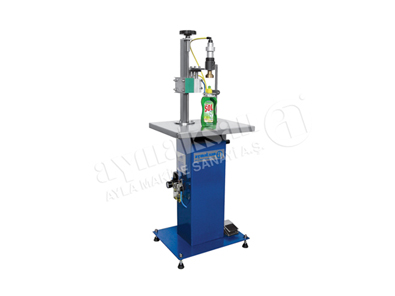 They are semi-automatic capping machines used to close small packaging up to 5 lt having Screw or Push-on caps without problem. The machine is equipped with heads according to the capping system (Screw/Push-in/Pilfer Proof). The machine closes the cap which is manually placed on the filled packaging. Its performance varies depending on the working operator and packaging size. In the facilities with low capacity or in the facilities dealing with many types of packaging/caps (especially those with flexible production schedule), quick change of the capping head allows for a good performance with simple torque setting.
It especially prevents production losses such as leakage or contamination of the product and deterioration of the containers due to failure of the workers to close the bottle caps faultlessly, completely or at the same torque as the machine.
Table-top chassis is cladded by AISI sheet iron material.
The caps are closed at the adjusted torque by the capping head with lift.
The pail with cap on is transferred under the capping head.
As it operates with pressurized air, it may operate in flammable / explosive environments.
Capping head for different caps.
Chassis with table.
| | | | | | | | |
| --- | --- | --- | --- | --- | --- | --- | --- |
| Model | Package Range (ml) | Capacity (bph) | Number Of Capping Heads | Pression Air (bar) | Air Consumption (lpm) | Power Consumption (kWh) | Package Dimension (W*L*H) (mm) |
| KV 1001 M | 5-1.000 | 800-1.000 | 1 | 0 | 0 | 0,18 | 500*600*700 |
| KV 1201 PM | 50-5.000 | 1.000-1.200 | 1 | 6 | Ops Bağlı | 0 | 500*500*700 |